Let's see what's on the bookshelf! Val and Ian both like to read, although Val's love for reading has certainly rubbed off on Ian.
Past: 2007 Books
Here's some books they've read recently: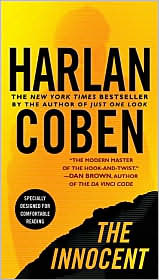 Ian says: I started out not that thrilled to be reading this book. The way it was written I guess. Meh. For example, in the beginning of the second chapter, the two main characters are shopping for a cell phone:
"A camera and a phone in one" — Matt stopped, searching for how to continue — "it's, I don't know, it's interspecies breeding when you think about it, like one of those B-movie experiments that grows out of control and destroys all in its path." Olivia just stared at him, "You're so weird." "I'm not sure we should get camera phones, that's all." She hit the remote and the car doors unlocked. She reached for the door handle. Matt hesitated. Olivia looked at him. "What?" he asked. "If we both had camera phones," Olivia said, "I could send you nudies when you're at work." Matt opened the door. "Verizon or Sprint?"
I think the above sums up why the book is a bit goofy. BUT, I did keep reading and it occasionally made me laugh a little. The story picked up and began to make me want to find out what happens. Actually, that's not true. The story picked up and made me want to hear a happy ending. Maybe it's because I'm getting married, but the parts about infidelity (or fear of it…and the taunting of it) and just the overall danger the newlywed couple — I just didn't want them to be in harms way. Some people may think it's exciting, but I just wanted it to end.
It's sort of how many people think Meet the Parents is a funny movie, but to me it's just frustrating! Why did all the bad stuff have to happen to Gaylord "Greg" Focker? And why does the bad have to follow Matt and Olivia in The Innocent?!?
Val says: So, I recently saw that this book was made into a movie – nominated for an Academy Award, actually. The way I see it, if a movie is nominated, it must be good. And I usually enjoy the book more than the movie, so therefore, the book must be good, right? Well, in this case, the book was. I really enjoyed this story. I haven't gotten a chance to see the movie rendition just yet, but after the reading the book, I definitely want to see how the movie version holds up. The story is hauntingly beautiful, emotional, and tense. I was home sick one day, and I decided to start reading it, only to finish the same day. I couldn't put it down, the story was so engaging. I don't want to give too much of the story away, but if you are looking for a good read, I would recommend this book. The author devotes the first half of the story to a single day, viewing a series of events through the eyes of several different characters. Over the course of the day, we learn about the tensions building up to a final critical moment, and the reactions of all parties involved. The actions of each character from that moment forward set the basis for the rest of the story, and set the reader's perspective on the title, "Atonement." The story didn't end the way I thought it would, or did it? I found myself thinking about the ending long after I had finished reading. A great story, a quick read, and a lot to think about after it was over.
Ian says: I was meandering through Barnes and Noble looking at new releases and other books, while Val was immersed in the knitting/crafts section. I came upon the staff recommended area and saw The Reluctant Fundamentalist. I've seen the book in the store before and somewhat wondered if it would be worthwhile. The combination of the staff member posting that it is "thought provoking" and it being on sale for $3.58 was the encouragement I needed to make the purchase. I read the first page in the store, which was enough momentum to continue when I got home. It got late quick, so I put it down to sleep. In the morning I finished the 184 page book in a few hours. From the beginning I wanted to learn more about the character and as it continued I was increasingly concerned about how it would end. I don't want to ruin it for you, but the end is thought provoking in a vague, 1984ish kind of way. One thing I wasn't a big fan of is actually how parts of it were written. The main character is telling his story to another person, but you never hear the other person's voice. Just things like what's that you say? You like tea? Me too! In fact when in the present you never heard anyone else's voice, including that of a narrator. Everything was either a question or statement said by the main character. Overall I found it a bit weird reading the parts of the story that were taking place in the present and was always eager to delve back into the telling of his story.
Ian says: I can't believe Val bought this book on her favorite band and never read it yet! I recently read this book and learned a little about Green Day that I didn't know (I'm sure val already knows it all though!). It wasn't an amazing story or anything, but it was easy and fun — a view of the band from an outsider with inside information (Spitz). The story goes back to their childhood and how Green Day was born…but, really the whole story is told in a way that almost writes off everything except American Idiot. It tells a good story about the band members, but the whole story seems to be written to explain how American Idiot came about to rock the world!
Val says: Ok, I plan to read this eventually…. Not like there's anything in it that I don't already know! But I suppose it will be nice to read it in a narrative form. I'll get to it sometime
Ian says: I stumbled upon a video trailer for the animated film Persepolis, so when I was at a bookstore not long ago and saw "The Complete Persepolis" I decided to buy it. It's basically a 341 page comic book autobiography about Marjane Satrapi's life growing up in Iran during the Islamic Revolution. It's quite interesting and a fast read, having finished it only a few hours after purchasing it. It's fun and a little sad at times, but there are definitely parts that can make you laugh. You can relate to the character even though so much of what she lives through is nothing like my life. I don't want to ruin the story for you, but I will quote one line to give you a sense of some of the humor: "It was funny to see how much Marx and G-d looked like each other. Though Marx's hair was a bit curlier." (Satrapi, 13). It's an exciting story, but it's real, so it's a bit crazy. It's kind of sad, but I like to think there is hope for peace.